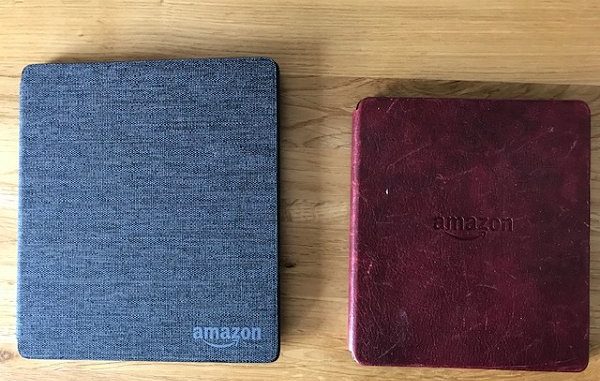 Let's get this out of the way right at the start: the Kindle Oasis is an expensive bit of kit. It's £229.99 for the base model, rising to £259.99 if you want 32GB of storage instead of 8GB, with another £60 on top if you want 4G as well as wifi. It is not a cheap and cheerful e-reader.
It is, however, a very good e-reader, and back in 2016 I snapped up one of the first generation Oases . Physical page turn buttons are a must for me, and the Oasis was a huge improvement in terms of readability on my old Kindle. Over the last three years, my trusty merlot Oasis has been a constant travel companion, perfect for long flights, waiting at railway stations, and indulgent bathtimes. And this, ultimately, was the problem – I do a lot of reading in the bath and the old Oasis wasn't waterproof. I had a succession of waterproof covers (essentially plastic bags) but I was always acutely aware of how fragile it was around water.
Enter the new version, in 2017, that was waterproof. But with my existing Oasis only a year old, I didn't feel I could justify it. Two years on, I've finally caved and bought the 2019 model.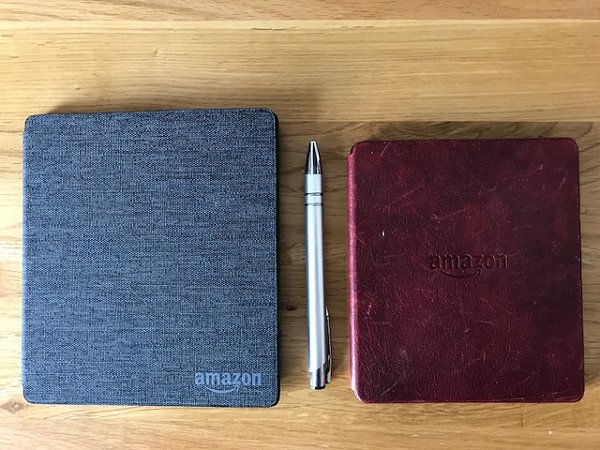 I've seen quite a bit of grumbling that the 2019 model isn't that different to the 2017 model, apart from the screen colour (which I'll come back to), but it's a big change from the 2016 model. It's much bigger, for a start, and at first I was genuinely concerned I wouldn't be able to hold it easily in one hand. The case is now also metal, rather than plastic, although that doesn't seem to significantly increase the weight.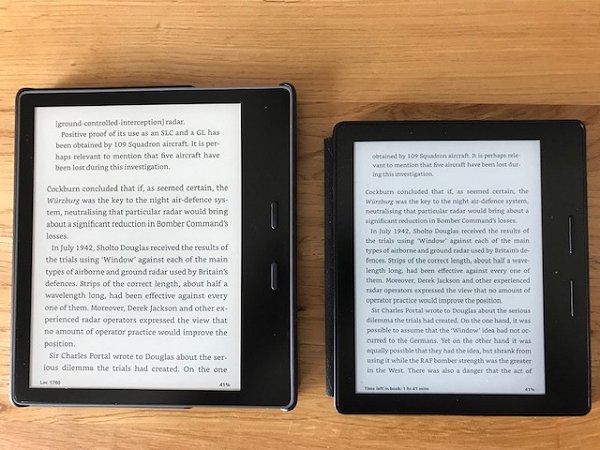 The screen is where the new Kindle really shines. I'd thought the 2016 model was pretty good, but the clarity of the screen on the new model is excellent and the adjustable warm light (which is worth playing about with) has a subtle but significant effect. For the first time ever with an e-reader, it feels like I'm reading something akin to a real book.
It's easy to hold in one hand and the controls fall neatly under the fingers to make page turns simple. As it comes in the box, I found the smooth metal back quite difficult to grip properly but a cover helps a lot. On the subject of covers, the Amazon water-safe cover is good (at £39.99, which is perhaps not that expensive if you're spending over £200 on an e-reader), but the more expensive leather covers are not water-safe. If you think you're going to be reading around water, don't get the leather case!
Others have complained about the lack of USB-C: personally, that doesn't bother me but Amazon do seem have missed a trick there. There's no headphone jack either so you'll need Bluetooth headphones or earbuds: again, this suits me but may be a dealbreaker for others.
If you're a keen reader, and you have an older e-reader or have never owned an e-reader before, and have the money to spare, then this is the e-reader for you. It is a genuinely superb reading experience.
It is, however, expensive: the waterproof 32GB Kindle Paperwhite is £159.99 (or £149.99 with special offers), and the entry-level Kindle is £79.99.
Pros: Excellent screen, warm light makes a big difference, good battery life, a quality product overall.
Cons: Expensive, and the lack of USB-C and headphone jack could be a problem for some.