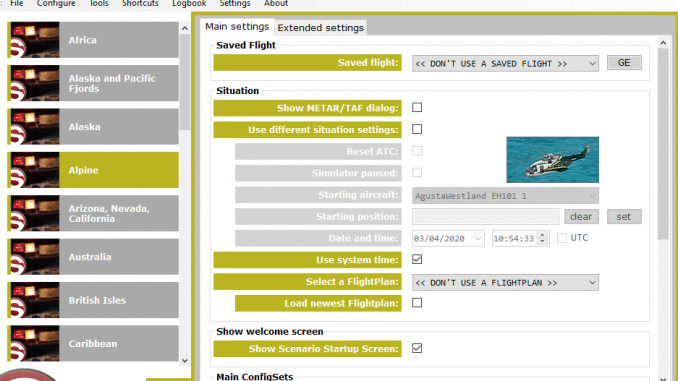 Getting into flight simulation software is very like a toddler running down a hill: it starts off as under control but before you know it things have got away from you.
"I'll just buy a few add-ins," I (naively) thought. "Maybe a couple of peripherals."
Inevitably, like many people, I've ended up with a lot of peripherals and an awful lot of add-on content, which all together caused serious framerate issues and a lot of frustration. Then I discovered SIMstarter NG, a program that lets you create profiles, tweak settings, and selectively load your scenery and add-ons depending on the region/s you want to fly.
The program gives you an easy way to customise your cfg file for every scenario, without you having to manually edit every time. Switching between regions is as easy as a couple of clicks, with SIMstarter doing the hard work of deactivating the scenery you don't want and activating the scenery you do.
Did I mention profiles? You can have 999 profiles with the paid version (which I would highly recommend getting: it's €15/£13), which means you can customise it for all your favourite flights. For regions where I only fly with Orbx Global Base and FS Global mesh, I can crank the settings right up in a way I don't need or want to for, for example Orbx England or PNW.
It also integrates well with other software, such as Ultimate Traffic Live and Active Sky 2016. SIMstarter lets you access settings the normal game launcher doesn't, and lets you customise just about anything. It does take some time investment to get it set up to your liking, but it's a fairly straightforward process and once it is set up you can look forward to a more stable game, better graphics, and a much more pleasant flight simming experience.