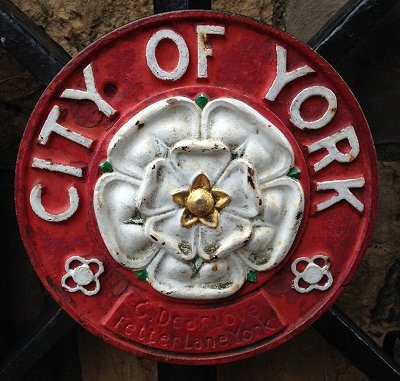 Last week I got into conversation with a family from the US who were (understandably) flummoxed by the convoluted process of trying to buy train tickets so they could go and see Windsor Castle as part of their trip to England, and it was a conversation that saddened me a little bit, because they'd fallen into the very common trap of England = Buckingham Palace/St Paul's/The Tower of London/Big Ben/Windsor Castle/time to get on the plane and go home.
Not only is that missing out on some interesting things in London itself, it's also missing out on so many other things to see and do in England and Wales (I'm not including Scotland as people seem to do the same thing to some extent with Edinburgh/Scotland). Hop on a train at Kings Cross and in less than two hours you can be in York, a medieval walled city founded by the Romans and later the Viking capital of their territory in England.
York Minster, built between the 13th and 15th centuries, is one of the largest cathedrals in Northern Europe. Throughout English history York has often played an important part in national events; indeed the first church in York was built in 627 AD for the baptism of King Edwin of Northumbria (great-uncle of St Hild of Whitby who I've written about previously), which brought Christianity to northern England.
Dive into Viking life at Jorvik, head over to the National Rail Museum, meander down the medieval streets of The Shambles, and round off your visit with afternoon tea at Bettys. York does get busy during the summer months, especially at weekends, so be prepared. If you are driving, it's a lot easier to use the Park & Ride rather than try and negotiate the road system!
Also within easy reach for a day trip is Manchester, the birthplace of the Industrial Revolution, with its museums and art galleries including the Museum of Science and Industry, The Whitworth gallery, and The Lowry. Manchester is well known for its football, music, and nightlife and there are plenty of good hotels. Personally, I've never been to Manchester and not had it rain, so take a raincoat/umbrella, but that doesn't mean you can't have a good time.
Manchester could be a good start/end trip destination as Manchester Airport (very easily reachable from the city centre) has flights to many international destinations and, in my experience, is slightly easier to negotiate than London Heathrow.
We may complain about the rail network in the UK but it could be worse – and it will get you to a lot of places without the hassle of driving. "The trains are so confusing!", my American family said, and they are – which is why it's worth heading over to Seat61, a site that will walk you through the process of buying train tickets not only in the UK but also to travel throughout Europe. Buying a ticket on the day you want to travel can be horrendously expensive in the UK so plan ahead!
My American family were downright terrified of driving – and I can understand that. In London, you don't need a car anyway, and if you're only intending to go to a few other places you can reach by rail, you don't need to drive. However, I think that if you want to really see England, and go to some of the more out of the way places, a car is really invaluable.
Although most people in the UK drive manual (stick) cars, you can hire automatics and I would recommend that you do if you're not used to driving on the left – it's one less thing to worry about. One thing to watch out for, though, is that we don't have the concept of jaywalking, so pedestrians can (and do) cross the road wherever they like! Just don't try to pay for fuel with a £50 note, as some friends of ours once did – we don't use that note for normal, everyday transactions and some shops will even refuse to accept them. Make sure you only have £20, £10, and £5 notes.